'NCIS' David McCallum Is Doting Dad & Grandpa – Meet His 5 Kids from 2 Women & Lookalike Grandkids
David McCallum from "NCIS" is not a regular on the show. However, he makes an appearance when needed. In real life, the actor is also hands-on and plays his parent duties excellently – meet the McCallum clan.
Undoubtedly, David MacCallum is an integral part of America's favorite series, "NCIS" He has been on the show since its inception and is set to appear in the 19th season.
The "NCIS" alum blesses his audience with his knowledge of history and ability to lend a helping hand to his group when needed. Over the years, viewers of all ages have grown to love him despite his changing looks.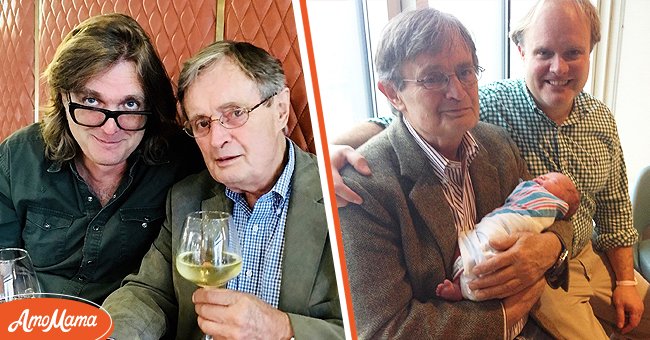 David MacCallum with his son, Val McCallum [left] , David MacCallum with his son, Peter McCallum and grandchild [right]| Photo: Instagram.com/valmccallum.7 facebook.com/peterwmccallum
On the other hand, he is a remarkable actor and enjoys a beautiful love story with his wife, Katherine Carpenter. The couple has been married for more than five decades and shares two adorable kids.
DAVID MCCALLUM'S TWO MARRIAGES
The "NCIS" alum is married to a former model and actress, Katherine Carpenter. The couple's incredible love tale began in 1965. They met on a photoshoot sponsored by the NBC series "Man From U.N.C.L.E.," where McCallum starred alongside Robert Vaughn.
At the time, Carpenter was a 21-year-old model, and the actor was eleven years her senior. Still, they were able to relate, and in no time, the pair built an inseparable bond.
Their friendship blossomed into a sweet love affair, and neither of them was scared to show off their newfound love. McCallum did not mind having his younger lover by his side during his Australian and Asian publicity tours for movies.
The tabloids scribbled different stories, as the actor was still legally married to actress Jill Ireland, with whom he shared three kids. This did not bother the actor who carried on his love affair until 1967, when the divorce became final.
Ireland had broken their marital vows in 1963, following an affair with her husband's buddy and former colleague, Charles Bronson, who featured in "The Great Escape."
Following the affair between the folks he trusted dearly, the actor revealed that he was hurt, as they shared three children.
Source confirmed that Bronson had met Ireland while filming and confidently walked up to his friend, whispering, "I'm going to marry your wife." Well, he sure did, and although McCallum does not recall that incident, the "NCIS" star claimed that he never despised his friend.
Ireland's ex-husband stated that it was a bitter pill at first, but he realized being anxious or negative was unnecessary, and issues can be resolved amicably.
After their divorce, the "NCIS" alum tied the knot with Carpenter in a private ceremony, and they proceeded to build their family. They share a daughter, Sophie, and a son, Peter.
Since 1967, the couple has maintained the sparks in their marriage through commitment, support, and mutual respect. They also share similar values like being intentional about the details they reveal to the public; luckily, their under-the-radar lifestyle has blessed their marriage.
Following retirement, Carpenter decided to work with her husband on various charity projects, including the United States Marine.
McCallum had proudly admitted that he is pleased with his life, indicating that his love story with Carpenter is as exciting as when it first began. In a few months, the pair will celebrate their 55th anniversary.
The actor's positive outlook on life has not saved him from being a victim to a few t********s. He lost his first son with Ireland in 1989. The young man was 27 and d**d of a drug overdose following years of d**g a***e.
In 1990, he suffered another loss; his ex-wife d**d from cancer. She had battled the illness for years and was an advocate after a brief recovery. Sadly, at 54, cancer spread from her breast to her lungs.
MEET THE ACTOR'S KIDS AND GRANDKIDS
The McCallum kids would have been five if Jason, Ireland, and the actor's first adopted son had not passed away. The d***h was devastating, and the "The Man from U.N.C.L.E." star confessed that it hit him hard. In his words:
"You never come to terms with the d***h of a child. The pain is very real, but it's like an ache that turns into anger."
However, the rest of the team is doing great and making their father proud. While speaking about his family, the father of four confidently revealed that his second son, Val, toed the route of entertainment. He works in Los Angeles as a studio musician, playing the lead guitar with Jackson Browne.
The former couple's last son, Paul, is into studio photography, and like his brother, he is based in L.A. The photographer has a son and still shares a close bond with his father, who he often sees.
Sophie, the only girl in the family, retired from real estate, and now focuses on her family, while her brother, Peter, is an advertising executive.
At 76, McCallum is a grandfather to six grandkids. His first grandchild is Jason. The family was unaware of the baby's existence until a young woman from New York sent the actor a card, admitting that the deceased posthumously fathered a son named Tory.
Now, Tory shares a close relationship with his grandfather and uncles. McCallum is delighted to have a part of his son in the flesh and wishes the young man turns out to be as wonderful as Jason.
The on-screen historian has a tremendous relationship with his grandchildren. He does not like to feel old, and thankfully, the young ones understand. According to the actor:
"They call me granddaddy. We don't like grandpa, because it sounds old, and I'm not old. And some of them have the cheek to call me grand-ducky."
DAVID'S LIFE WITH WIFE OF 54 YEARS
As established before, Carpenter's past is not limited to modeling; she has also appeared in "NCIS" alongside her husband. While the mother of two is constantly supporting her husband's philanthropic works, she works in New York with one of the oldest interior design firms.
Despite their long-lasting marriage, the couple does not spend much time together, as their work demands regular travel. However, they remain connected by talking over the phone and have prioritized being together during holidays.
While speaking on their secret ingredient, the actor said, "but when it comes to marriage, we do it instinctively. But I think the rule is you should find out what the other person wants in life and make sure they get it."
Judging by their accomplishments, David and his sweetheart have applied the formula of playing an integral aspect in each other's success story and have set a template for career couples.