'NCIS': What We Know About New Cast Member Teri Polo
NCIS' Season 19 finale set up the already confirmed next season in a big way thanks to the introduction of a new character.
Vivian Kolchak (played by Teri Polo) is introduced on the CBS show as a jogger who gets abducted by a masked man. However, a connection between her and an NCIS team member is quickly revealed.
Teri Polo's character looks like she will be important for the upcoming NCIS Season 20 thanks to a final twist in the latest episode.
Here's what CBS viewers need to know about the character (and the actor who plays her) before the show returns in the fall
Who Is Vivian Kolchak on 'NCIS'?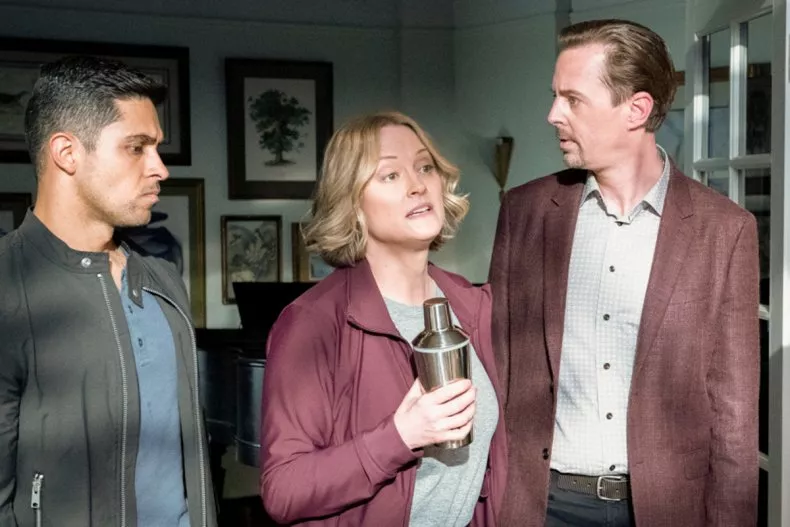 In NCIS Season 19, Episode 21 (titled "Birds of a Feather"), photos of Vivian being abducted are emailed to the team. Using them, Kasie Hines (Diona Reasonover) is able to identify her as Vivian Kolchak, a former FBI agent.
After she has done this, Alden Parker (Gary Cole) reveals he has a very special connection to Vivian—she is his ex-wife.
That is not the only unfortunate blast from Parker's past in "Birds of a Feather." The photographer who shot the abduction images turns out to be Parker's disgraced former partner Frank Ressler, who turns up dead with Parker's DNA underneath his fingernails.
Parker admits to trying to track down Ressler, but said he was not at home. This alibi is not enough for the FBI, who storm NCIS looking for him. However, Parker has gone on the run after his co-workers help him sneak away with Vivian to the place they spent their honeymoon.
This seems to have been Vivian's plan all along. We see her text someone, "it's done. I have him" as they drive.
So who is Vivian? The season finale offers more questions than answers, but it seems like she might be in league with "Raven," the mysterious figure who has been taunting the team this season.
We are sure to find out more about the character when NCIS returns in the fall. Deadline confirmed that the character's storyline will continue into Season 20 in a recurring role, so this storyline is far from over. This Deadline piece also gives us an official character bio, describing her as "a former FBI agent who left the FBI following [her] divorce and took a Defense Department job as a paranormal investigator."
That would be the 52 year-old American actor Teri Polo. She is best known as Pam Byrnes-Focker, Ben Stiller's partner (and Robert De Niro's daughter) in the Meet the Parents / Meet the Fockers / Little Fockers trilogy of cringe comedies.
More recently, the actor's biggest role has been as Stef Adams Foster in both The Fosters and its spinoff Good Trouble. In 2021, she starred in the one-and-done Fox ballet comedy The Big Leap